Are you self-employed looking for a credit offer adapted to your status? Mansa – a company created in 2019 – comes at the right time. Many French entrepreneurs have cash needs following the COVID 19 crisis. Discover in this article our complete opinion on Mansa (see here the Mansa offer), the credit platform specially designed for the self-employed. We explain how it works, its services, the loan (up to €20,000), the fees (cost of credit)…all the important points assessed with our practical test.
SUMMARY
Who is Mansa?
Founded in 2019, Mansa has managed to find a place in the loan market in mainland France. 100% made in Francethe Mansa company was founded by 3 French entrepreneurs: Ali Rami, Benjamin Cambier and Rémi Tinco.
The Mansa company has been talked about a lot since 2021, having recently raised 18 million euros from recognized entrepreneurs (Bolloré, Afflelou, etc.) to accelerate its development.
Let us first note that Mansa is not a bank but a broker. Its main objective is to facilitate access to microcredit. By regulation, it offers its services as an intermediary in banking transactions and payment services (IOBP). Under ORIAS authorization number 19008106.
The Mansa company has joined forces with several partners renowned. In particular the banks Anytime, Shine and Younited credit. It also works with Lemonway, a payment institution approved by the ACPR. If Mansa refuses to finance you, all is not lost, it will refer you to one of its partners.
The reviews on Google are very positive:

A service offer for whom?
Unlike banks, Mansa only offers its services to freelancers, self-employed, liberal professions and VSEs (very small businesses). It is a public that finds it difficult to find a loan offer that suits it on traditional circuits.
It is a young Fintech (company offering financial services through technology) which offers its innovative services to the self-employed. For example IT developers, liberal health professionals, translators, consultants, etc. In legal terms, an independent worker or freelancer is a person who works on his own account. He can carry out several activities (commercial, artisanal, liberal, etc.) through different legal structures such as:
a microenterprise (for auto-entrepreneurs);
a sole proprietorship;
a commercial company (EURL or SASU type).
With the Mansa eligibility test (see here)we quickly know if the offer is made for us or not: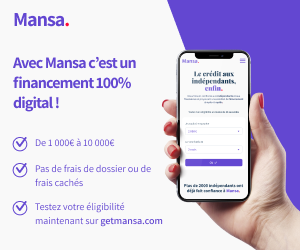 Why did Mansa target independents?
This is an audience that is often overlooked by banking networkswhich does not "check all the boxes" with incomes that are not always stable.
Indeed, bank loans are not accessible to everyone. When you apply for a loan, you must ensure that you meet all the conditions for obtaining it. Banks usually ask for the last three payslips to check creditworthiness…and other documents that the self-employed often cannot present.
Mansa, on the other hand, uses a very different risk model than traditional banks when applying for a loan. She is not asking for either a work contract or a pay slip.
Note from Nicholas : commercially, it's smart of Mansa. Because the self-employed and the liberal professions are a target of choice because of their rapidly growing number (+126% in 10 years in France!)
The conditions for benefiting from a loan at Mansa
In practice, Mansa does not automatically grant the loan to all the self-employed. Even if it is less laborious than applying for credit in a traditional establishment, you must meet certain conditions to benefit from it (detailed on the Mansa website). Here is eligibility criteria :
you must carry out your activity officially, that is to say you have made your declaration as an independent entrepreneur for at least 1 year. To justify it, you must have a SIREN number created more than 12 months ago.
your average monthly turnover must be greater than 1,800 euros.
you have to have an activity in Metropolitan France. This therefore excludes freelancers or self-employed who reside in the DOM-TOMs.
your business should not not be subject to judicial liquidationnor be registered with the Banque de France, nor be in a state of cessation of payment.
You can test your eligibility for Mansa loans in 30 seconds :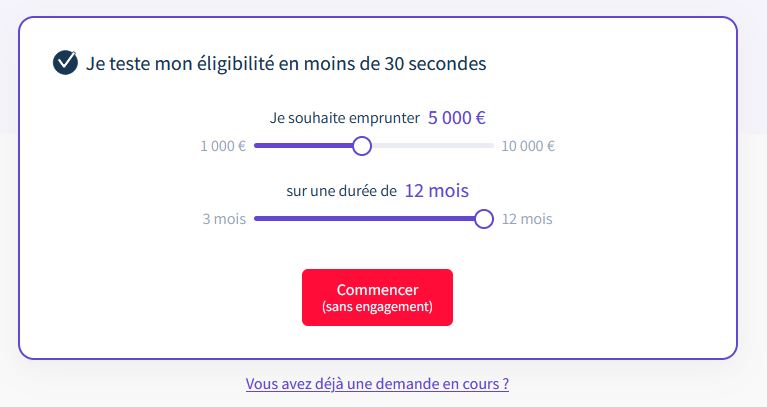 What are Mansa's products and services?
As we have seen, Mansa grants its loans to a well-defined category of customers. The platform offers a unique offer: a revolving professional loan.
Revolving business credit
The platform provides you with a maximum amount of money that you can freely use (cash, factoring, investment, etc.), once or several times. So it is not a credit assigned to a particular project to be justified.
The loan amount is between €1,000 and €20,000. The amount of the loan as well as the repayment terms will be defined with the platform. Mansa aims to avoid over-indebtedness.
In return, you must repay by monthly installment, interest and capital.
The duration of the loan is set at a maximum of 12 months.. After repayment, if necessary, we can continue on a new loan.
Client service
If you have any questions, you can contact customer service, which can be reached by various means:
Opinion of Nicolas : we tested the chat, it is a robot that answers a few basic questions. Then he sent us to Whatsapp to talk to a real advisor. It took 5 minutes to answer our questions, it was responsive and relevant.
How does the Mansa platform work? Our opinion
Considered as a young Fintech, the Mansa company offers its fully online services to simplify the loan application process.
The platform does not provide no application fees or hidden costs. No prepayment charges if you decide to repay the loan in advance. This is very significant, given the fees generally charged by traditional banks.
The loan is granted in a few steps that are completely dematerialized and simple.
1/ Complete the loan application form (eligibility test)
First, you must complete a online loan application form on the Mansa website. It literally takes 30 seconds. In practice, the platform provides you with a simulator (previous screenshot) which allows you to indicate the amount of the loan you wish to obtain, as well as the duration.
You don't need to collect many papers. You only need to give some useful information for the study of your file such as the age of your SIREN, your status, your identity.
We instantly know our eligibility for the Mansa loan and the financing conditions :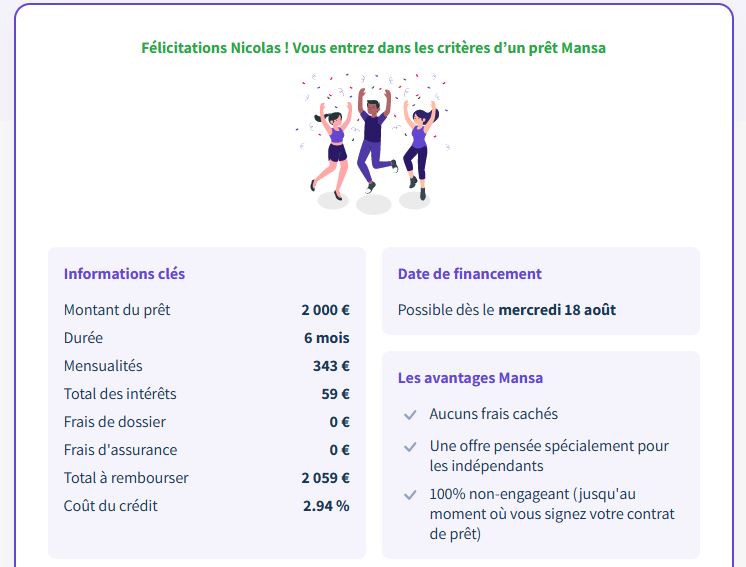 Opinion of Nicolas : we tested a classic loan application for freelancers. Here is the result obtained. The cost (interest on the loan) is very reasonable for a microcredit, with a rate of 2.94% without additional costs, knowing that traditional establishments sometimes go up to 5-10%. Good surprise for the financing period: request made on Monday August 16 and possible financing from Wednesday August 18, therefore an announced period of 2 days. This is a very short time, knowing that an appointment in a traditional bank can take 1 week + several weeks to obtain the loan. What if we are not eligible? In this case, Mansa directs us to a partner such as Younited Credit.
2/ Connect your bank account
If you are eligible for the Mansa loan offer (1st step seen previously), it takes 5 minutes to finalize the loan request.
The platform operates on the basis of Open Banking, i.e. it requires your consent to access your bank statements.
This approach allows you to know your turnover or whether you are banned from banking or not. Mansa will then analyze the data to find out your situation and decide on the loan amount granted.
In support of this synchronization of the bank account, if the request is pre-accepted, it will be necessary to provide some documents. In particular the identity card and a proof of residence dating from less than 3 months. For a commercial company, it will also be necessary to provide the last balance sheet and a statement of situation provided by URSSAF.
Note from Nicholas : it is this stage of connection of the bank account which allows to be so fast in the study of the file and in the granting of the loans. If entrepreneurs find this too intrusive, it is always possible not to give their consent and to stop the loan application. But rest assured, this connection does not allow Mansa to know your username and your bank account password, nor to carry out operations (and Mansa undertakes not to resell the information to third parties).
3/ Get a response within 24 hours and funds within 48 hours
On its site, Mansa undertakes to provide an answer (favorable or unfavorable) in less than 24 hours. According to the opinions of Mansa users, this very fast deadline is met!
Then, if the loan is granted, we receive the funds within 48 hours (working days).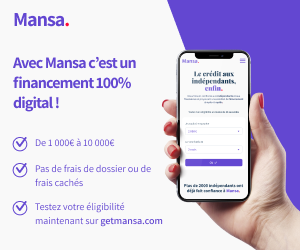 Mansa review: summary
We salute this entrepreneurial initiative which supports the recovery of the French economymeeting the cash flow needs of thousands of entrepreneurs.
The opinions on Mansa are very positive, from customers who generally explain that they were able to borrow easily, online, with a clear, fast and transparent procedure.
Much faster and more convenient than in a traditional bank, this is the type of online service that we appreciate. No need to make an hour-long appointment with an advisor who will ask for lots of documents and provide a possible response after a few weeks. The online loan application process is clear and flowing.
Our online application test and our interactions with customer service in the context of our article gave us a good impression. Our overall opinion on Mansa: a serious, fast service and reasonable interest without additional costs.

Source link